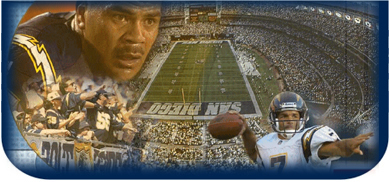 Bolt Pride in the House!
This is Our House - the Bolt Pride House! This is a picture from the official 2001 San Diego Chargers screensaver, sponsored by Union Bank of California.

"Our House" is all about attitude. This is our town, our team, our house. We expect to win, coaches must coach to win, and players must play to win. Anything less is unacceptable. We don't care who lines up on the visitor sideline.

Backed by more than 60,000 raging Bolt fans, we demand that our team dominate at home - The Murph! Dominate on offense, defense, special teams and coaching. Dominate every aspect of the game. Do whatever it takes to win. Prove that they want to win more than the other team. Execute. Minimize mistakes. Force turnovers. Win!

A perfect home record is the goal, and anything less than 6-2 is unacceptable. With a 4-4 or better road record, our Chargers would then challenge for the division title with a worst case 10-6 record. But everything begins at home.

The Chargers have never had a perfect single-season home record in franchise history. Since 1960, the Chargers have had only five seasons with one home loss - three with Coach Sid Gillman (1961, 1963 and 1965), two with Coach Don Coryell (1979 and 1982) and 2004 with Coach Marty Schottenheimer. 2004 was long overdue, but now is the time for the Chargers to continue to dominate at home!

See also the Fortress.